Chicken Patty Parmesan- ground chicken patties are baked in the oven and then coated with tomato sauce and cheese. It's a much easier way to make Chicken Parmesan.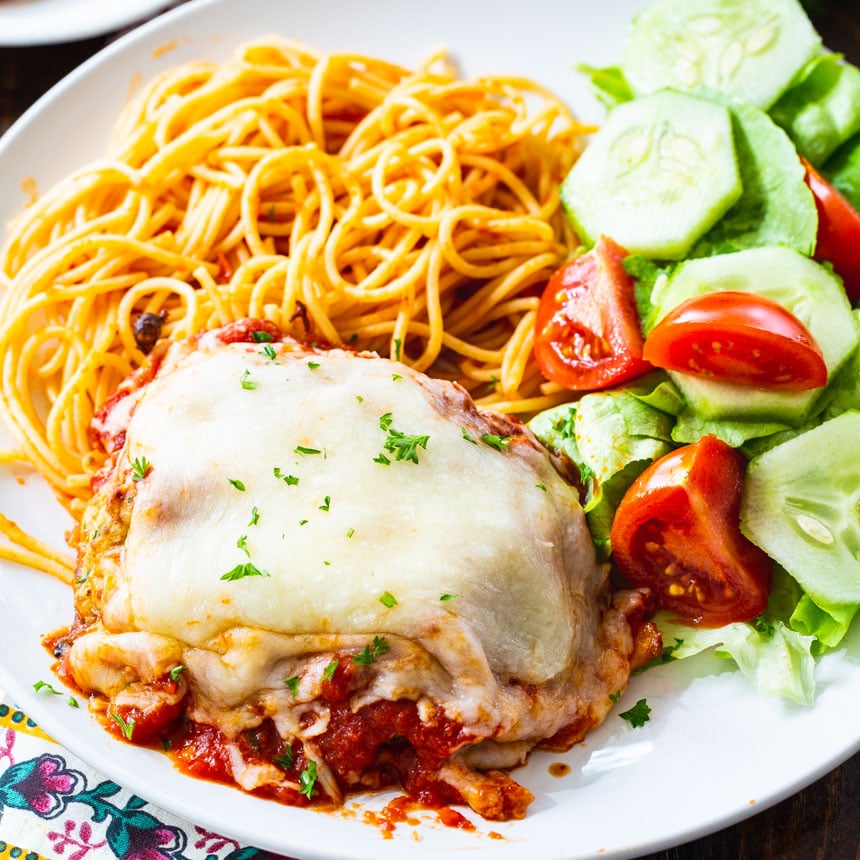 And making this recipe is so easy.
Let me just say that I had no idea how much I would love this recipe.  I wanted to make a healthier Chicken Parmesan, but I thought a Chicken Parmesan made with ground meat would be greatly inferior in taste to a traditional one made with  pan-fried chicken breasts. But I think this is actually my favorite Chicken Parmesan.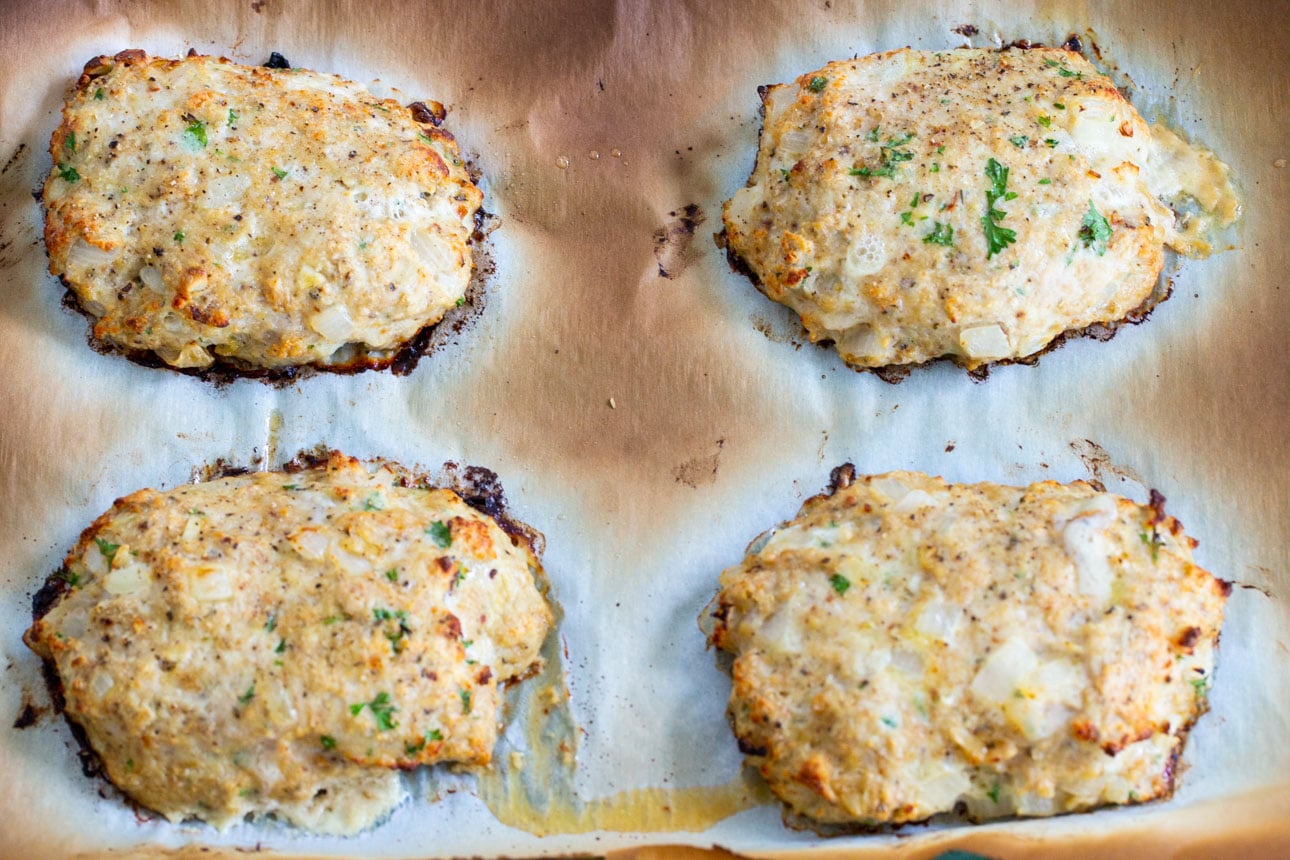 Lots of ingredients get added to the chicken patties to keep them moist and add flavor. There's breadcrumbs, an egg, milk, garlic, onion, Parmesan cheese, and seasoning.
The chicken patties bake up really moist and tender. No knife needed to eat this Chicken Parmesan. As a bonus, they need less than 20 minutes in the oven. So it's totally doable for a weeknight meal.
For the tomato sauce, I like to mix some tomato paste into some jarred marinara sauce. If you use marinara sauce by itself, it will taste a little watery. The addition of tomato paste creates a really robust tasting sauce.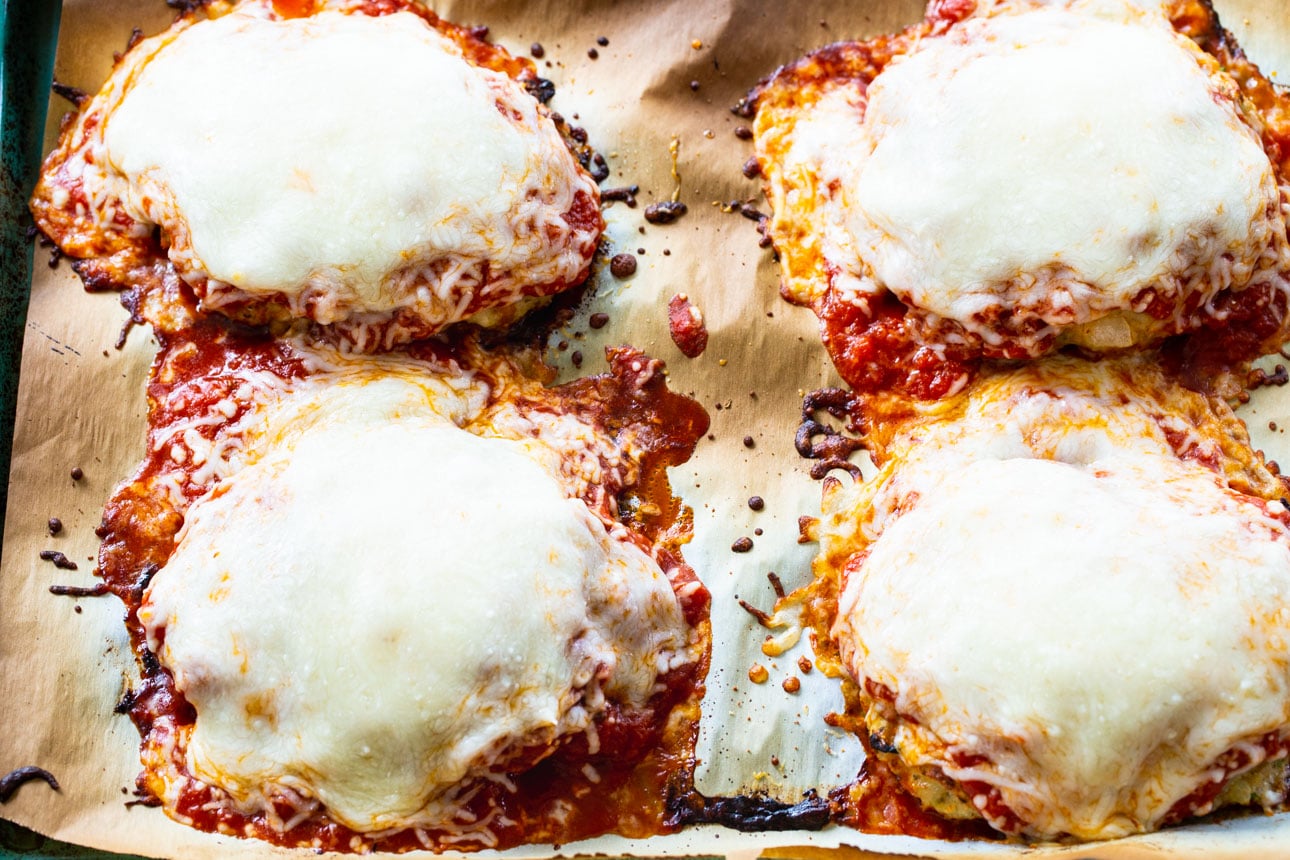 And if you're like me and like to prep dinner the night before to save time, you can premix the chicken patties and have them ready to pop in the oven. Home cooking really isn't stressful or too time-consuming with a little preparation.
How To Serve:
Toss a little marinara sauce with some spaghetti.
A green Salad with Creamy Italain Dressing.
Pepperoncini Garlic Bread
Steamed broccoli or green beans.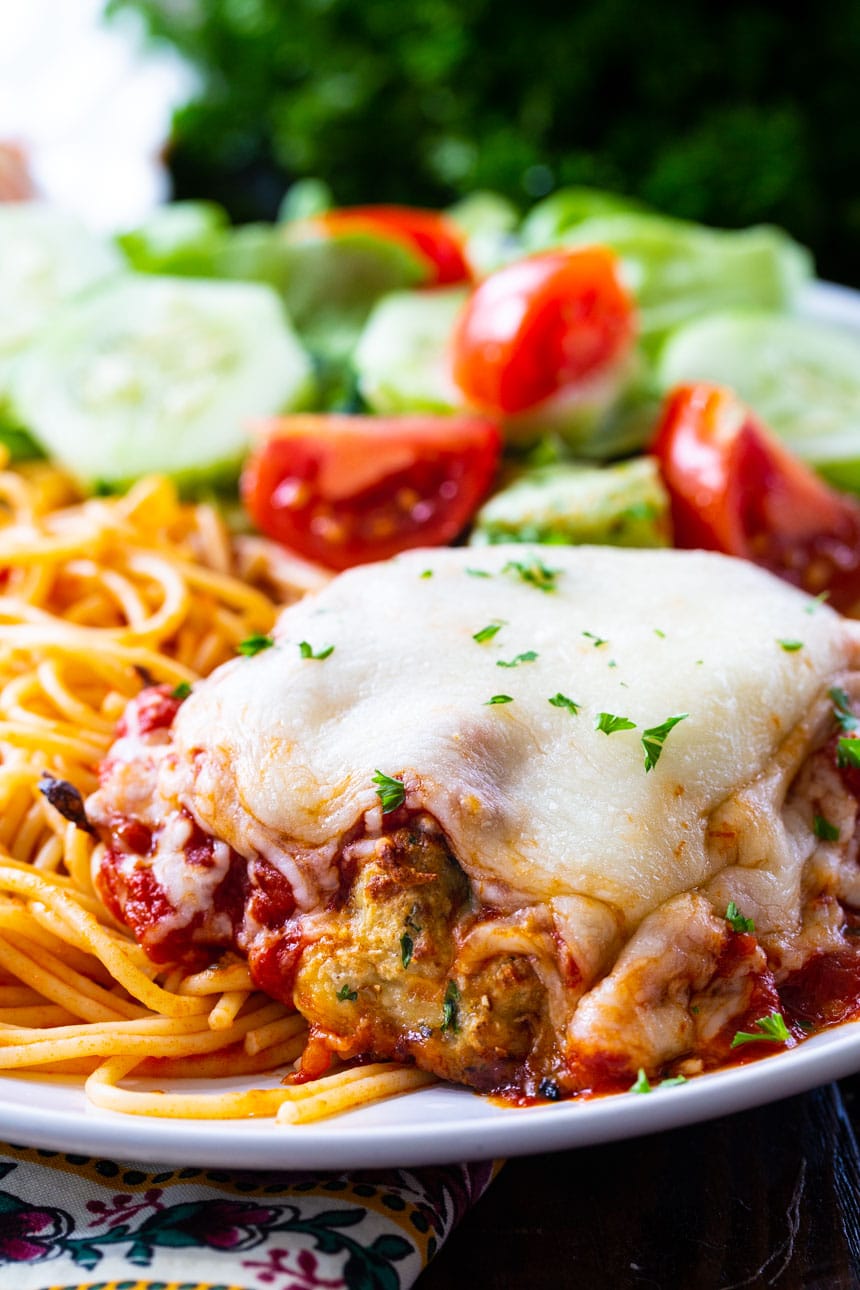 More Chicken Parmesan Recipes: 
Classic Chicken Parmesan
Crock Pot Chicken Parmesan
Chicken Patty Parmesan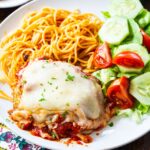 Chicken Patty Parmesan- ground chicken patties are baked in the oven and then coated with tomato sauce and cheese. It's a much easier way to make Chicken Parmesan.
2 tablespoons olive oil, (divided)
1/2 cup finely diced yellow or sweet onion
2 garlic cloves, (minced)
1 pound ground chicken
1 large egg, (lightly beaten)
1/4 cup milk
1/2 cup dried bread crumbs
1/3 cup freshly grated parmesan cheese
1/4 cup chopped fresh parsley
1 teaspoon Italian seasoning
1/2 teaspoon salt
1/2 teaspoon black pepper
1/4 teaspoon crushed red pepper flakes
Topping
1 1/2 cups marinara sauce
2 tablespoons tomato paste
2 tablespoons freshly grated parmesan cheese
1 1/2 cups shredded mozzarella cheese
Preheat oven to 475 degrees and line a baking sheet with parchment paper or aluminum foil.

Heat 1 tablespoon of oil in a medium nonstick skillet over medium-high heat. Add onion and garlic and cook for 3 to 4 minutes to soften. Stir often so that the garlic doesn't burn.

Remove from heat and let cool.

To a large bowl, add ground chicken, egg, milk, bread crumbs, Parmesan cheese, parsley, Italian seasoning, salt, pepper, and crushed red pepepr flakes.

Add the cooked onion and garlic and mix everything together well.

Divide mixture into 4 equal portions and shape them into oval shapes on the prepared baking sheet. Drizzle the remaining olive oil on top.

Bake for 13 to 15 minutes.

While they bake, stir together marinara sauce and tomato paste in a bowl.

Once chicken patties have baked, remove them from the oven and spoon the marinara mixture on top. Sprinke with the parmesan cheese and the mozzarella, being careful to pile the cheese directly on top of the patties. Some of it will ooze off but you want as much as possible to stay put.

Place back in the oven for 4 to 5 minutes to melt the cheese.

Sprinkle with a little more parsley if desired.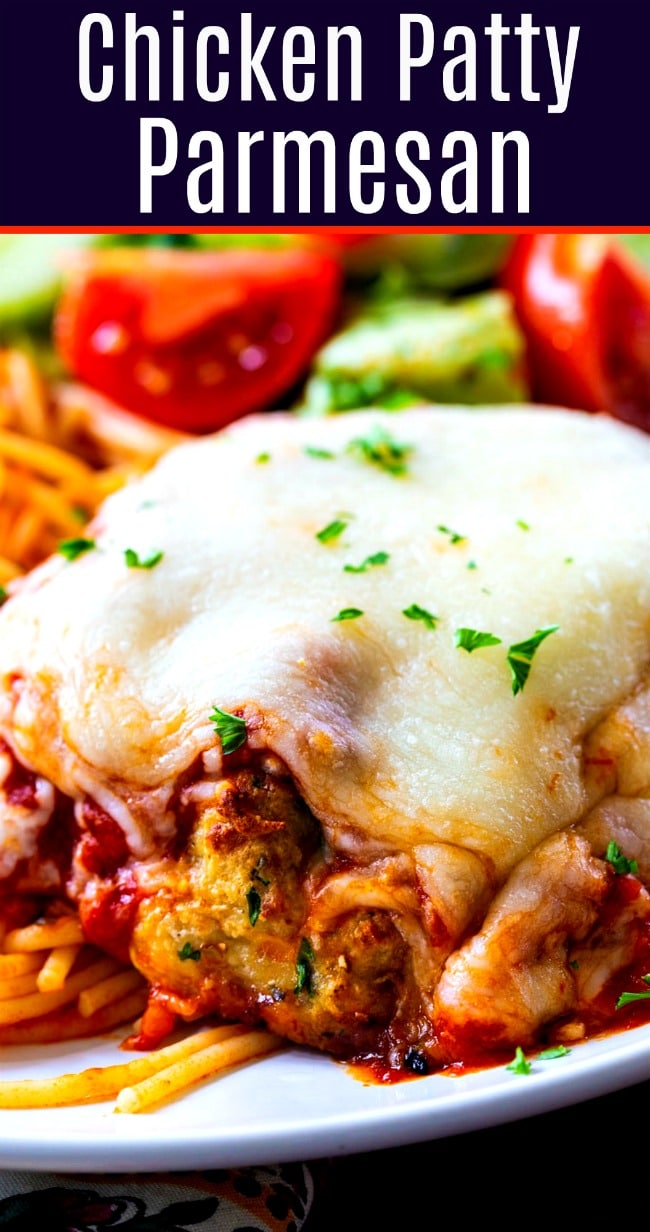 The post Chicken Patty Parmesan appeared first on Spicy Southern Kitchen.
Original source: https://spicysouthernkitchen.com/chicken-patty-parmesan/