Crab and Shrimp Etouffee is chock full of seafood and has a super rich flavor. Can be made in just 30 minutes!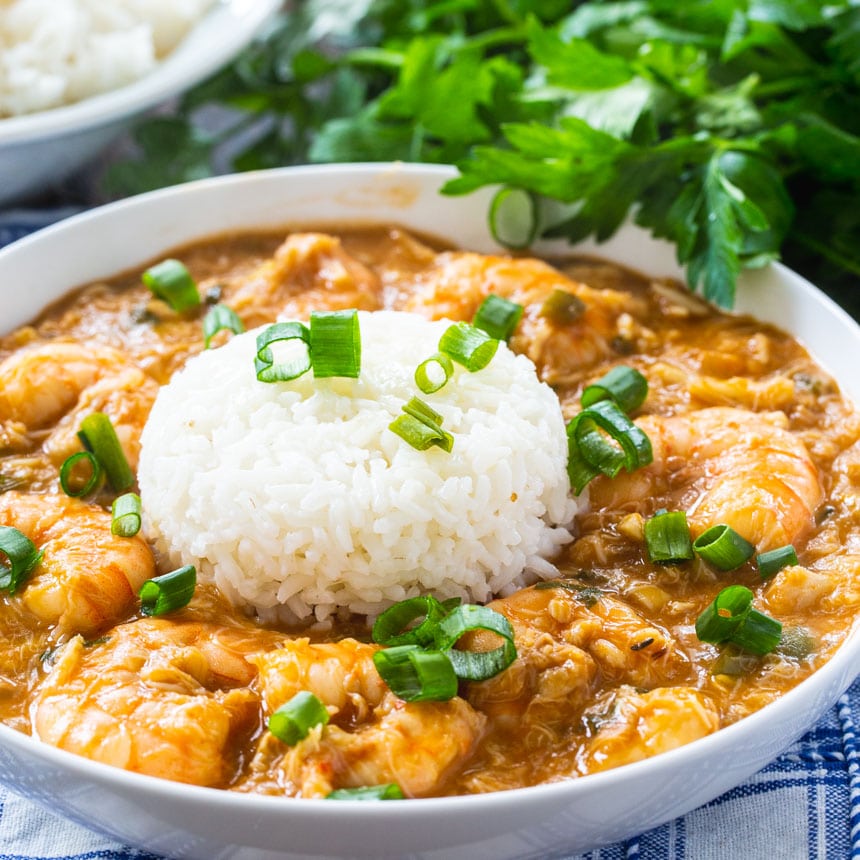 This Shrimp Etouffee Recipe has been popular on Spicy Southern Kitchen for years. It has a super dark roux that gives it a really rich flavor.
But I wanted  a recipe that had crab in it too and that took a little less time to make. The roux for this recipe only takes 5 minutes to make versus 20 minutes for the other etouffee recipe. Perfect for someone like me with little patience for stirring.
A tablespoon of tomato paste helps up the richness.
Alot of people from Louisiana will tell you that tomatoes have no business being in a cajun etouffee, but creole etouffees often contain tomatoes, so I say it's up to personal preference.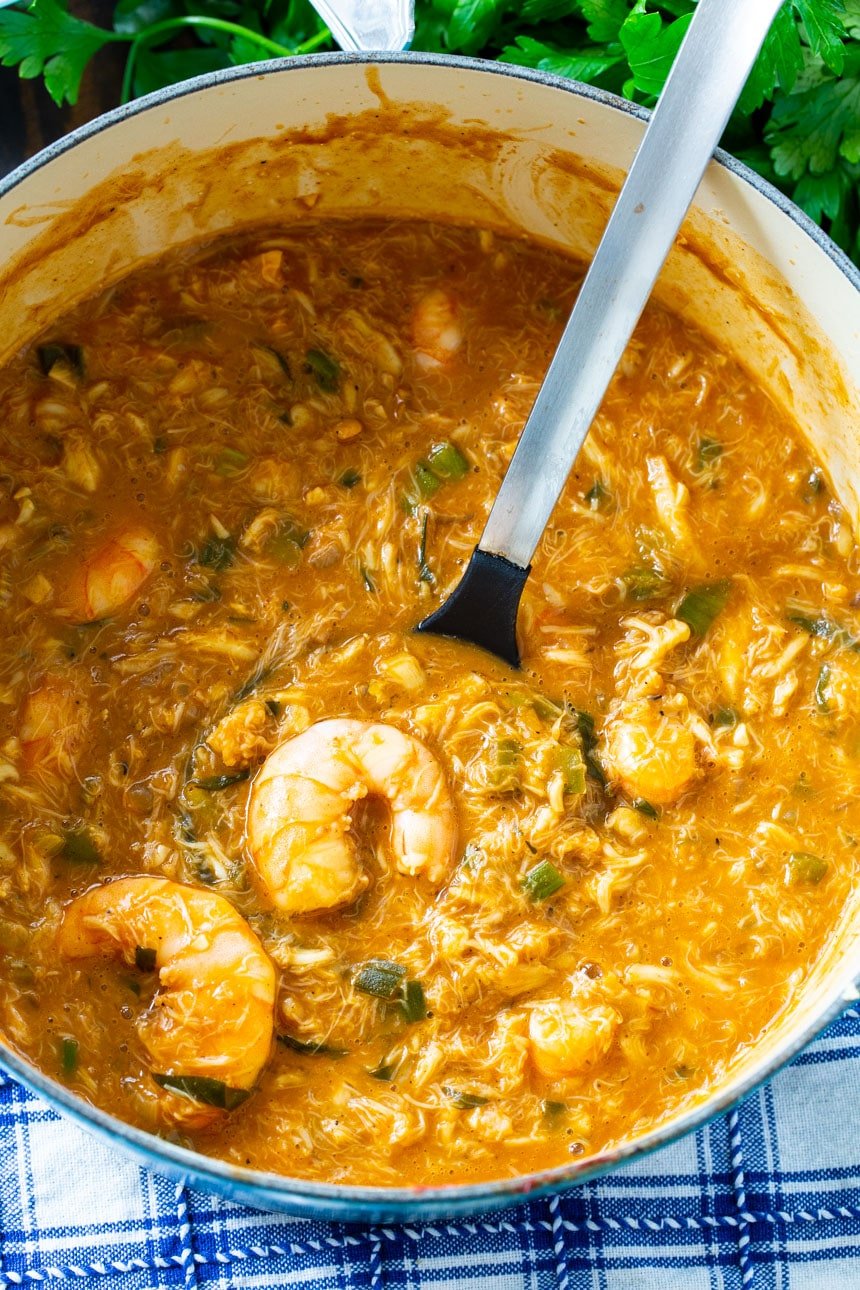 How To Make Crab and Shrimp Etouffee:
The roux is made with a combo of butter and vegetable oil. Once the roux gets to be a caramel color, you'll add the trinity- onion, celery, and bell pepper and cook until soft.
Next add minced garlic. Then you'll add a little white wine, chicken broth and all the seasonings. If you have a good seafood stock, you could use it instead of the chicken broth. Simmer this mixture for 10 minutes then add the shrimp, followed by the crab.
Be careful not to overcook the shrimp. They will get rubbery.
A combination of cajun seasoning, cayenne pepper, and hot sauce gives this etouffee a fair amount of heat. Add extra hot sauce when you dish it up if you want it spicier.
Leftovers will keep refrigerated for 3 to 4 days and you'll find the flavor gets better with time.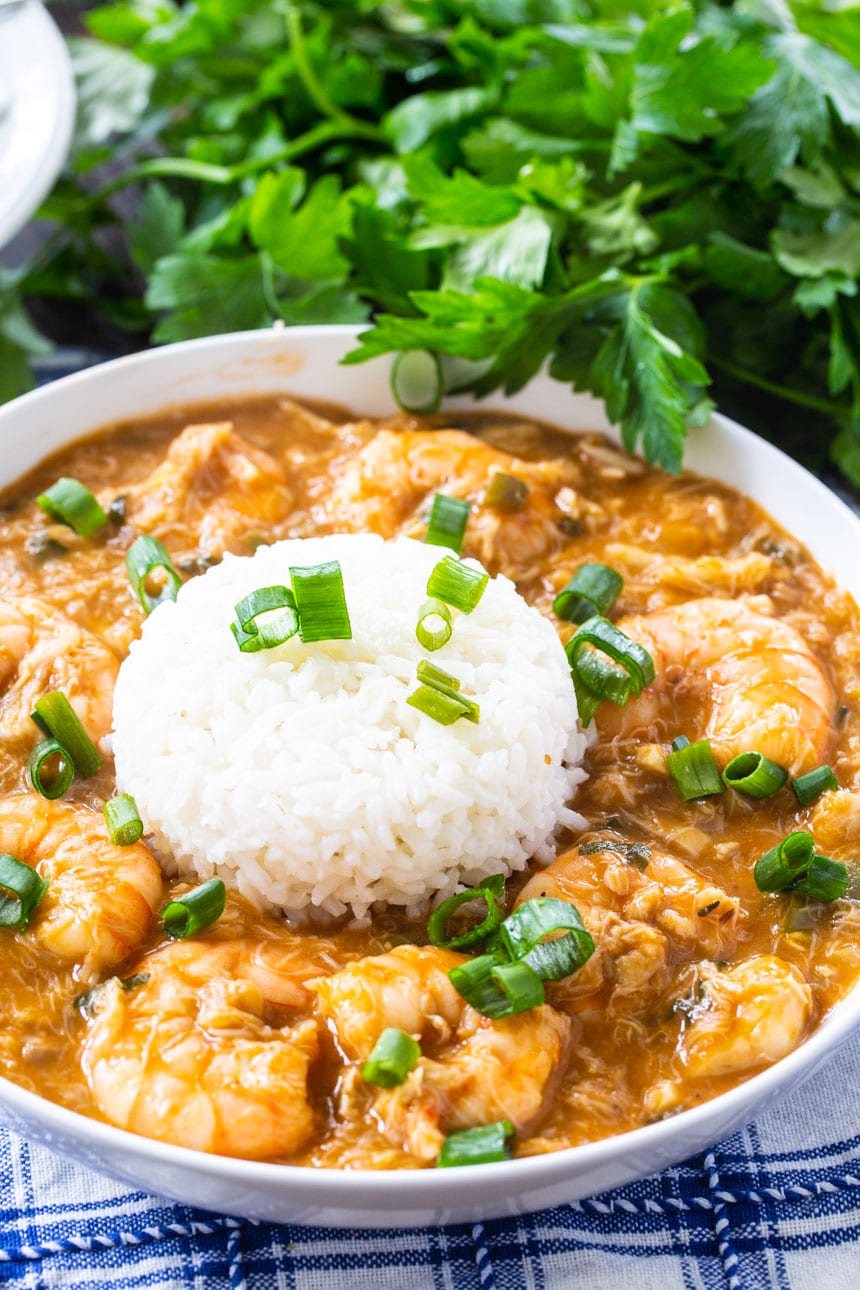 Try These Other New Orleans-Style Recipes:
Shrimp Creole
Slow Cooker Jambalaya
Seafood Gumbo
Grillades and Grits
Beignets
Crab and Shrimp Etouffee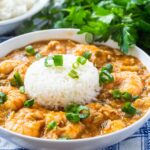 Crab and Shrimp Etouffee is chock full of seafood and has a super rich flavor. Can be made in just 30 minutes!
4 tablespoons butter
2 tablespoons vegetable oil
1/3 cup all-purpose flour
2/3 cup diced onion
1/3 cup diced celery
1/3 cup diced green bell pepper
3 garlic cloves, (minced)
1 (14-ounce) can chicken broth
1/3 cup dry white wine
1 tablespoon tomato paste
2 teaspoons Cajun or Creole seasoning
2 teaspoons Worcestershire sauce
2 tablespoons chopped fresh parsley
1/4 cup sliced green onions
1 teaspoon hot sauce
1/4 teaspoon dried thyme
1/4 teaspoon cayenne pepper
1 pound large shrimp, peeled and deveined
1 pound lump crabmeat, (picked over to remove any pieces of shell)
rice and sliced green onion for serving
Add butter and vegetable oil to a large Dutch oven. Heat over medium heat. Once butter is melted, add flour. Cook and stir for 5 minutes, or until mixture turns a caramel color.

Add onion, celery, and geen pepper. Cook for 4 minutes, stirring often.

Add garlic and cook for 1 minute.

Stir in chicken broth and wine. Add the next 8 ingredients. Simmer for 10 minutes.

Stir in shrimp. Cook for 2 minuutes.

Stir in crab. Cook for 3 more minutes.

Serve with rice and green onion.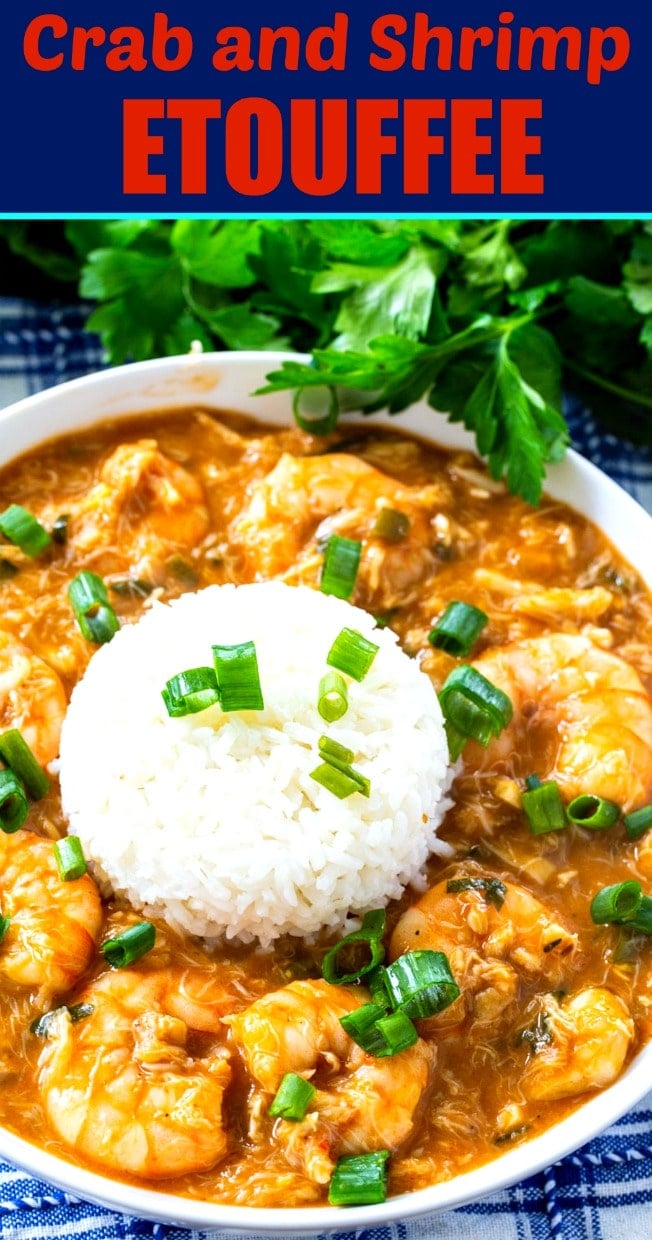 Disclosure: This post contains affiliate links.
The post Crab and Shrimp Etouffee appeared first on Spicy Southern Kitchen.
Original source: https://spicysouthernkitchen.com/crab-and-shrimp-etouffee/