Peanut Butter Cheesecake- with a creamy peanut butter filling and a rich peanut butter glaze in a Nutter Butter crust, this cheesecake is bursting with peanut butter flavor.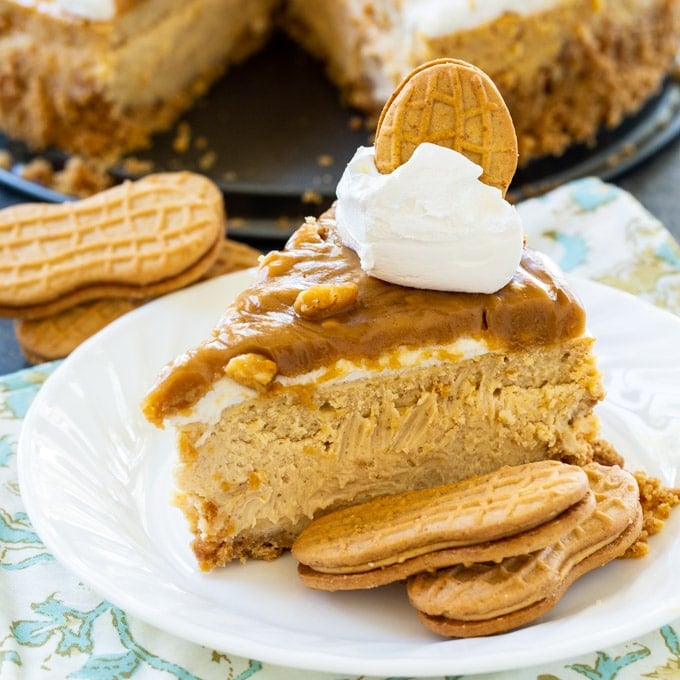 This cheesecake has the perfect creamy cheesecake flavor in every bite. There's no chocolate in this cheesecake so it is strictly for straight-up peanut butter lovers of which I am one. Peanut butter is one of the few foods I can eat every single day and not get sick of. I just love its salty/sweet flavor.
If you're looking for a peanut butter AND chocolate cheesecake, try this Chocolate Peanut Butter Cup Cheesecake. It is fabulous!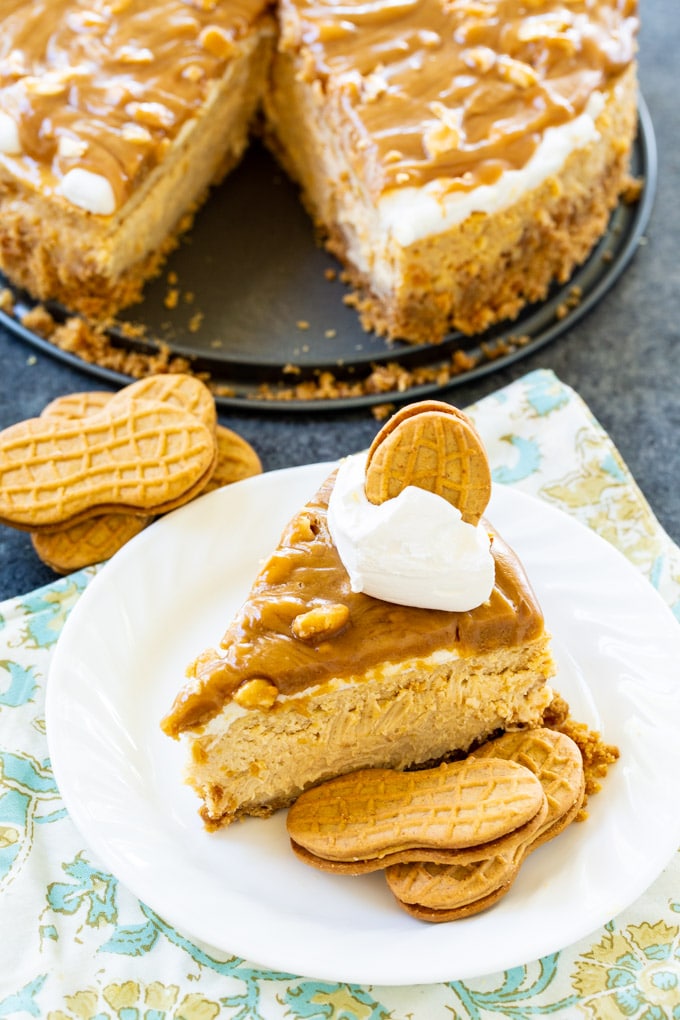 Between the creamy filling and the peanut butter glaze, there's a layer of marshmallows which adds sweetness and a little texture contrast. The ultra-sweet peanut butter glaze on this cheesecake gives it a nice finish, plus it helps hide any cracks that form on top of the cheesecake.
Cheesecakes are a little time consuming to make and then you have to wait for them to chill before cutting a slice. No instant gratification.
But cheesecakes are great make-ahead desserts and because they are so rich, they can serve alot of people.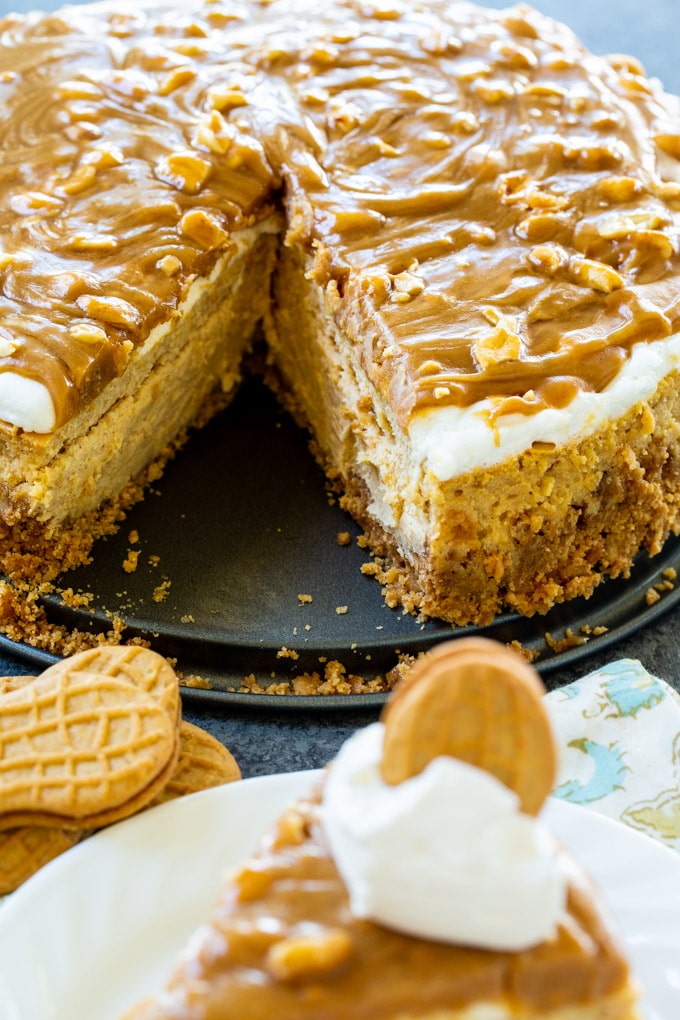 Tips for making Peanut Butter Cheesecake:
Make sure your cream cheese is very soft. Leave it on the counter for at least a few hours.
Your eggs should be at room temperature too.
To avoid a crack in your cheesecake, be careful not to overcook it. You want the center to still jiggle a little when you shake the cheesecake.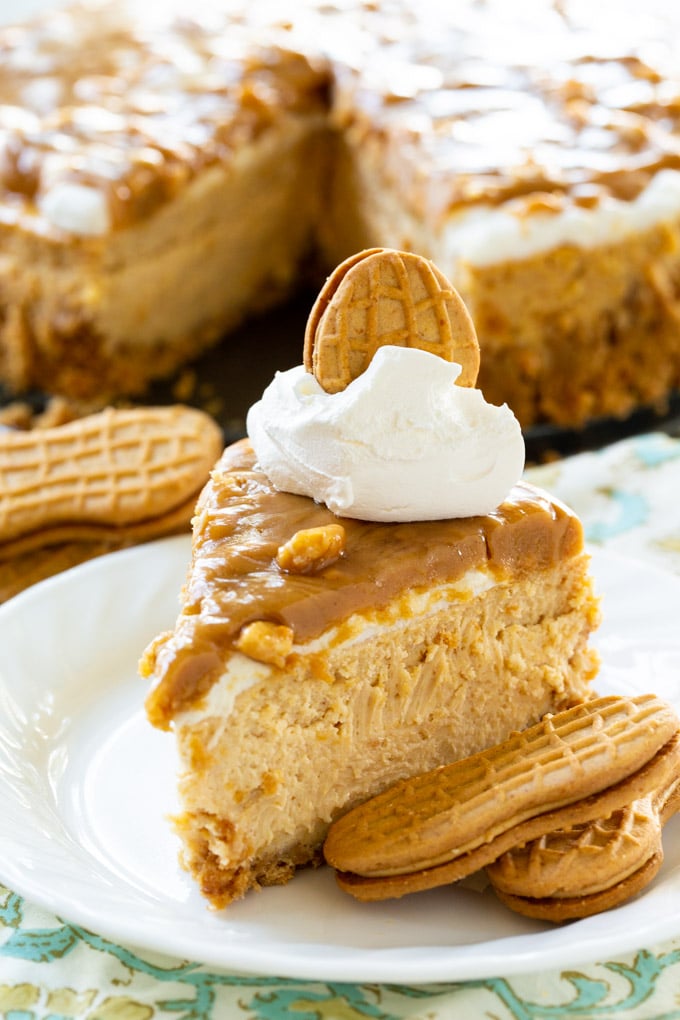 More Peanut Butter Favorites:
Peanut Butter Cup Cake
No-Bake Peanut Butter Oatmeal Cookies
Peanut Butter Crunch Pie
Peanut Butter Cheesecake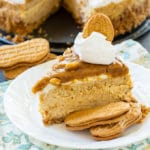 Peanut Butter Cheesecake- with a creamy peanut butter filling and a rich peanut butter glaze in a Nutter Butter crust, this cheesecake is bursting with peanut butter flavor.
Crust
24 Nutter Butter Cookies
6 tablespoons butter, (melted)
Filling
3 (8-ounce) packages cream cheese, (softened)
1 (10-ounce) package peanut butter chips, (melted)
1 (14-ounce) can sweetened condensed milk
1 teaspoon vanilla extract
3 large eggs, (room temperature)
Topping
1 1/2 cups mini marshmallows
3/4 cup peanut butter
2/3 cup light corn syrup
2 tablespoons butter
1 teaspoon vanilla extract
1 cup dry roasted peanuts, (coarsley chopped)
Preheat oven to 325 degrees. Place a greased 9-inch springform pan on a double layer of heavy-duty foil. Wrap the foil securely around pan.

Pulse cookies in a food processor until finely crushed. Transfer to a bowl, add butter, and stir until mixed evenly.

Press onto the bottom and about 1-inch up the sides of the prepared pan.

Using an electric mixer, beat cream cheese until smooth.

Beat in melted peanut butter chips, sweetened condensed milk, and vanilla until smooth.

Beat in eggs one at a time on low speed just until incorporated. Scrape down the sides of the bowl after adding the first one and again after adding the second one.

Pour batter into prepared pan. Place pan in a large baking pan or roasting pan and pour 1-inch of water into it.

Bake 55 to 65 minutes or until the center only giggles slightly when you shake the pan.

Top with marshmallows and place back in the oven for 2 minutes.

Take the springform pan out of the water bath and let cool on the counter for 10 minutes.

Run a knife around the edge and remove the sides of the springform pan.

Cool for 1 hour.

In a small saucepan, combine peanut butter, corn syrup, and butter. Cook over low heat, stirring constantly until smooth. Remove from heat and stir in vanilla.

Sprinkle half the peanuts on top of the cheesecake.

Drizzle the peanut butter sauce on top once it has cooled a little. Sprinkle with remaining peanuts on top.

Refrigerate overnight.
Recipe adapted from Taste of Home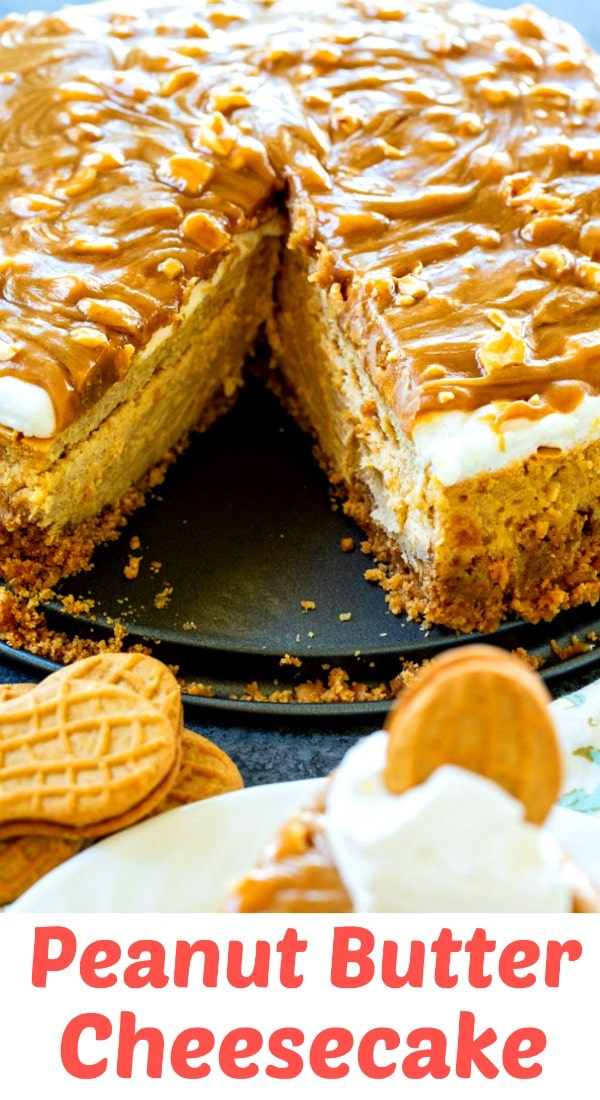 The post Peanut Butter Cheesecake appeared first on Spicy Southern Kitchen.
Original source: https://spicysouthernkitchen.com/peanut-butter-cheesecake/