Spicy Melting Potatoes are wonderfully crispy on the outside and creamy on the outside with lots of spicy kick. Amazingly flavorful!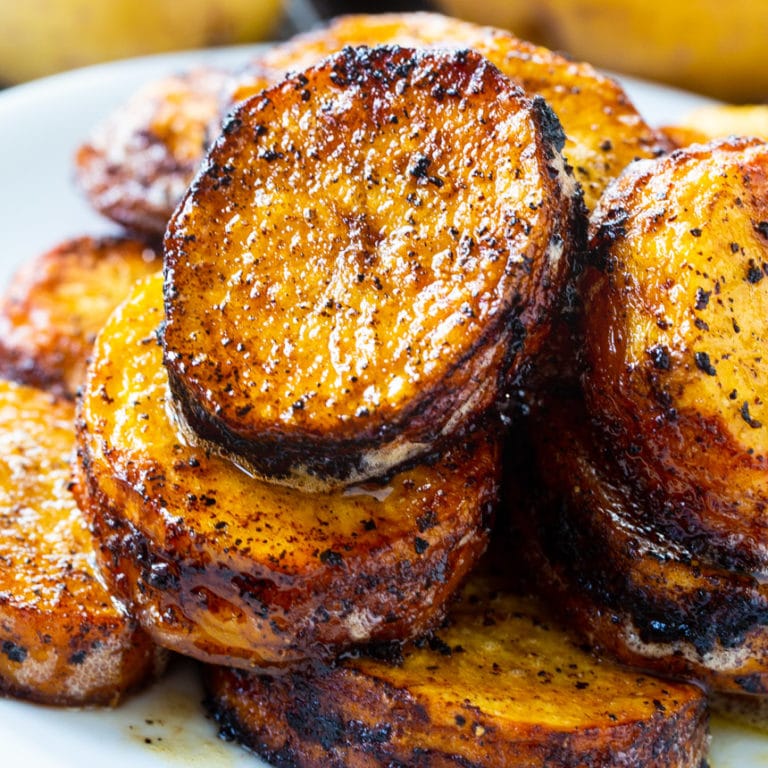 If you're a spicy food lover, these Spicy Melting Potatoes are a must try.
This recipe for Melting Potatoes  is one of the most popular recipes on Spicy Southern Kitchen. People can't believe how delicious these potatoes are. I wanted to make a spicy version of melting potatoes and I think they turned out wonderfully.
I used a slightly different cooking method, starting them in a cast iron pan with oil and melted butter on the stove to really kick start the browning process.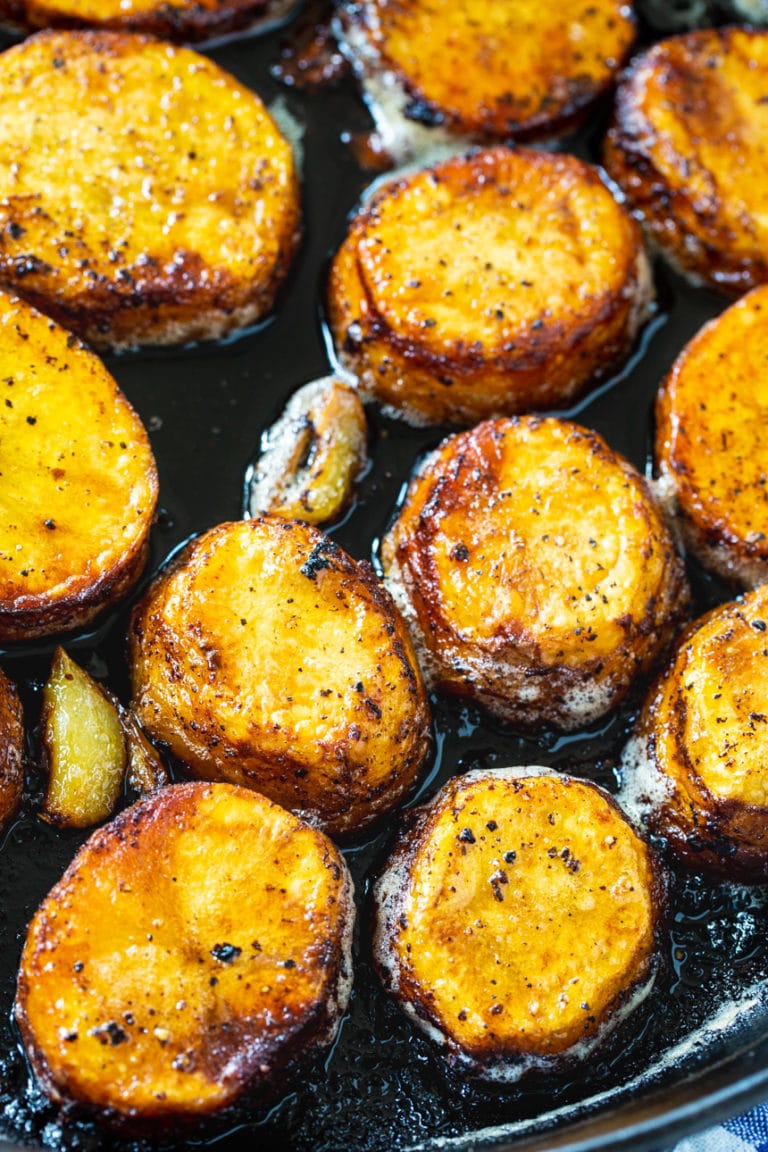 I drizzled them with more butter mixed with cayenne pepper and a little honney for sweetness before placing them in the oven. Halfway through the baking time, the potatoes get flipped over and some chicken broth and garlic get added to the pan.
The flavors are kept simple here because the real winner is the texture of the potatoes. For best results, I like to use Yukon Gold potatoes, but Russet potatoes could also be used.
The potatoes are cut in fairly thick slices and the outsides get wonderfully golden and crispy by the time the inside gets soft. The chicken broth adds just the right amount of flavor to the potatoes. For an even stronger flavor, try using beef broth.
This is a potato side dish you will turn to again and again.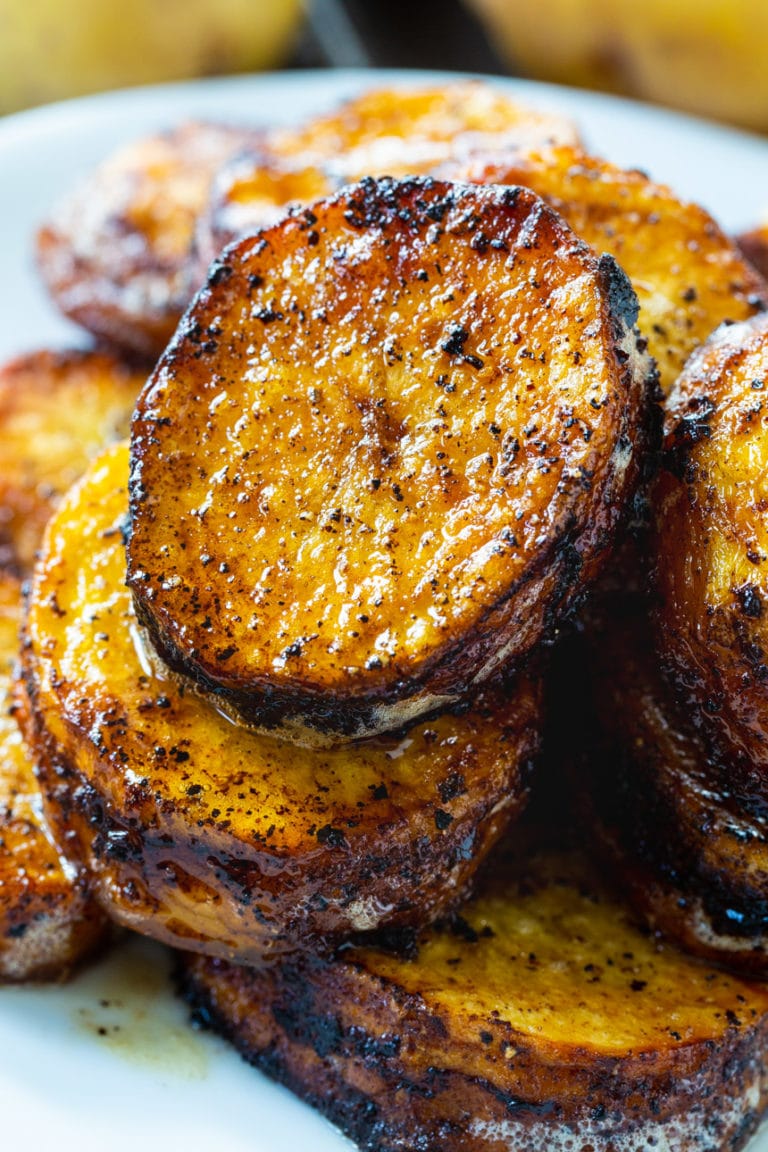 More Potato Recipes:
Slow Cooker Garlic Parmesan Potatoes
Melting Sweet Potatoes
Shake and Bake Ranch Potatoes
Buttered Parsley Potatoes
Spicy Melting Potatoes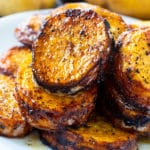 Spicy Melting Potatoes are wonderfully crispy on the outside and creamy on the outside with lots of spicy kick. Amazingly flavorful!
8 tablespoons salted butter, (melted)
3 pounds Yukon Gold Potatoes, (peeled)
salt and pepper
1/2 to 1 cup chicken broth
1 teaspoon honey
1/2 teaspoon cayenne pepper
2 tablespoons olive oil or vegetable oil
2 cloves garlic, smashed
Square off ends of potatoes and cut into 3/4-inch to 1-inch slices

Preheat oven to 475 degrees.

Heat a large cast iron pan over medium-high heat. Add the oil and half the melted butter.

Place the potato slices in a single layer in the pan. Season the tops with salt and pepper and saute for 5 minutes to brown the bottoms.

Remove from heat and flip each potato over.

Mix the honey and cayenne with the remaining butter and pour over the potatoes.

Place pan in the oven for 15 minutes.

Remove pan from oven and flip potatoes over. Pour enough chicken broth in the pan so it comes about 3/4 of the way up the potatoes. Add garlic.

Return pan to oven for 15 minutes.

Spoon liquid over potatoes and serve. Add extra salt and pepper if desired.
Beef broth can be used instead of chicken broth.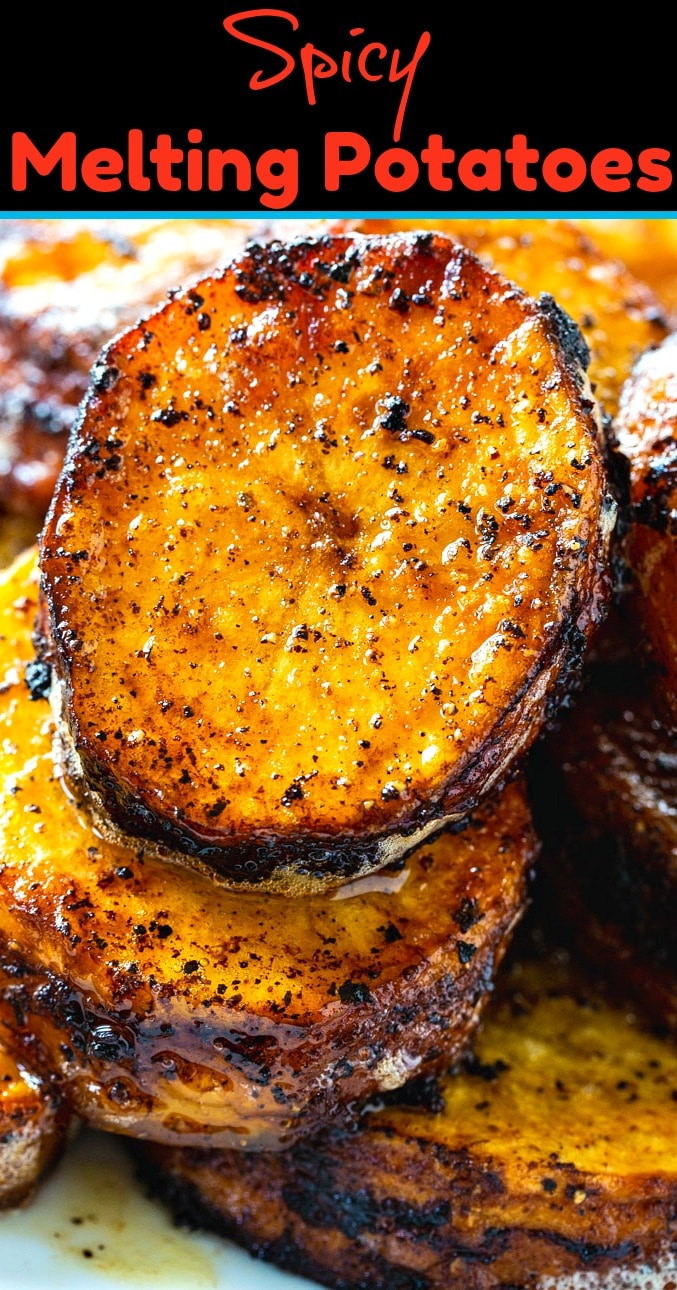 The post Spicy Melting Potatoes appeared first on Spicy Southern Kitchen.
Original source: https://spicysouthernkitchen.com/spicy-melting-potatoes/